UGLY MUS-TARD
Strange, scary fun
One of Dallas' biggest phenomenons in the past year is the brainchild of guitarist/programmer E. Trent. Taking the name as a joke from bands gone by, Trent has formed an absurd ensemble of industrial/metal/Euro music that seems to be the next big thing to replace grunge. "a long time ago in the early eighties we were forming a heavy-metal band. We were trying to name the band and I submitted Ugly Mustard to the hat. Everyone thought it was f#*king stupid. I said to myself, 'One day...' Cause I kept thinking Led Zeppelin - they must have had some hard times when they were thinking of names."
Ugly Mus-tard's other members are F. Rush (drums), K.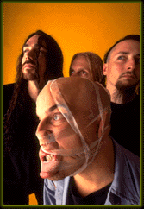 Barker (vocals), and M. Daane (also renowned for his unique styles of bass playing with Andy Timmons).
Their CD was recorded at Daane's personal 16-track studio, and the band was signed afterwards to Real Records. "Real is an independent label, and we're at the end of the first term," states Trent. "So right now we're pretty much able to do what we want to do."
One thing the band has done recently was tour Europe, along with their sound engineer, Gene Coleman (Alamo Sound, Oktober). "Real Records liscenced the oversees agreement with Edel. That's one of the largest independent labels in Europe and a subsidiary of Sony. Edel has bands from Savatage to Prince." related Trent. "We toured extensively through Germany (including East Germany), Switzerland, and France. Over there, especially in Germany, they're not used to cross-over bands. It's very interesting to them. What I mean about cross-over is "Industrial / something else." Industrial like Eistreinnen Noibotten, or Metal like Iron Maiden, but when you have a hybrid band, it trips them out. It's very well received, but their ears aren't used to it."
Americans also aren't used to a combination of musical styles with, at times, rap-style lyrics. "Barker likes rap, industrial, hip-hop. M. Daane's background, I couldn't explain but everybody just knows." continued Trent. "I call Mr. Daane the lead player, and I'm the guitarist. I don't do any solos at all. He does them. He uses a lot of strange effects and is very proficient at them. Daane also has a variety of uses for the E-Bow (electronic bow). Mr. Barker uses a lot of weird objects to get his vocal effects. A bunch of tubes, megaphones, whatever he can find. His outfits are completely bizarre." (These outfits can be anything from wraps of electrical tape to electric Christmas lights!)
When we started Mus-tard, I was up at Gene's studio. Mr. Rush, Mr. Barker and I have had a relationship with Gene for about ten years," explained Trent. "I asked Gene if he had a little space where I could work on some stuff; and he put me in this little closet. I brought in my sequencers and started working on this stuff with Mr. Rush. We finally threw it all together and did our first debut show at Club Clearview. It started out to be a project that I wanted to do, sort of industrial. I didn't even want a drummer at the time. I just wanted to work on a real heavy project. I hooked up with Mr. Daane because he had just gotten his studio and wanted to experiment. I gave him a rough tape, and he was like "whoa!" Then he got involved creatively and put his unique bass on it. Then I got Mr. Barker to do some vocals. There's actually one tape that has six songs with no drummer. A couple of songs don't even have guitar. Very wild. 'I Was' got played on KNON one night and we started getting some attention. We really didn't even have a name back then. We named the band and then decided to see if we could do this thing live. I didn't think we could. I worked with Mr. Rush for about six months on getting everything in sync, then invited Mr. Barker and Mr. Daane back to check it out. We jammed, did a couple of live shows, then decided to do a nice demo, which is now our CD."
The liner notes on the CD states that the CD was recorded on 15 and a half tracks - due to one track only being usable when played backwards. Live, the band puts all the keyboard sequences on DAT, pushes play, and just goes. "It's too difficult to go and set up all the sequencers and keyboards for a show," Trent noted, "But we're writing, and we may bring keyboards into the live performance. Bring in some extra weird drums that maybe Mr. Barker can ram his head into on the side."
"Everyone thinks the live show is going to be dark, but it's not like that. It's real aggressive, but it's like watching movie. There's one man you'll watch all the time, and that's Mr. Barker. He's very much the spectacle. He's really strange and he does scare you, but by the end you're having a really good time."
By Ethan Nahte'